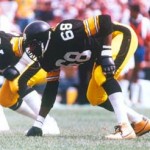 September 8, 1946 L.C. Henderson Greenwood, former football defensive end, was born in Canton, Mississippi.
Greenwood played college football at Arkansas AM & N where he earned his Bachelor of Science degree in 1968. He was selected by the Pittsburgh Steelers in the 1969 NFL Draft. Greenwood was one of the four members of the Steelers' "Steel Curtain" defensive line.
Over his 13 season professional career, Greenwood was a six-time Pro Bowl selection. He was a finalist in the voting for the 2005 and 2006 Pro Football Hall of Fame. Greenwood is now the president and owner of several companies.