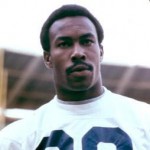 September 8, 1945 Lemuel Joseph "Lem" Barney, hall of fame football player, was born in Gulfport, Mississippi.
Barney played college football at Jackson State University where he earned his bachelor's degree in health and science in 1967. He was selected by the Detroit Lions in the 1967 NFL Draft and that year was named NFL Defensive Rookie of the Year. Over his eleven season professional career, Barney was a seven-time Pro Bowl selection.
Barney retired in 1977 and was inducted into the Pro Football Hall of Fame in 1992. From 1979 to 1993, he served as manager of civic affairs at Michigan Consolidated Gas Company. He is currently an associate minister and mentors inner-city youth.