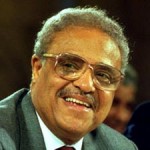 April 15, 2010 Benjamin Lawson Hooks, attorney, minister and civil rights leader, died.
Hooks was born January 31, 1925 in Memphis, Tennessee. After earning his Bachelor of Arts degree from Howard University in 1944, he joined the army where he found that the prisoners he was responsible for guarding could eat in restaurants from which he was barred. Hooks graduated from DePaul University School of Law in 1948 and set up his own law practice.
In 1956, Hooks was ordained a Baptist minister and he joined the Southern Christian Leadership Conference. In 1965, he became the first black criminal court judge in Tennessee history. From 1973 to 1978, he served on the Federal Communications Commission where he focused on the lack of minority ownership of television and radio stations and images of blacks in the mass media. From 1976 to 1992, Hooks served as executive director of the NAACP.
In 1986, Hooks was awarded the NAACP Spingarn Medal and in 1996 the Benjamin L. Hooks Institute for Social Change was established at the University of Memphis. Hooks received the Presidential Medal of Freedom from President George W. Bush in 2007 and in 2008 he was inducted into the International Civil Rights Walk of Fame.
---