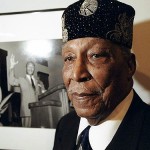 October 15, 2007 Ernest C. Withers, photojournalist, died.
Withers was born August 7, 1922 in Memphis, Tennessee. He worked as a photographer in the United States Army during World War II and opened a studio in Memphis when he returned. He also worked for three years as one of the first African American police officers in Memphis.
Withers documented the Civil Rights Movement from the 1950s through the 1960s. In the 1950s he also photographed such baseball icons as Jackie Robinson and Willie Mays and the early performances of Elvis Presley, B. B. King, Ray Charles, and Aretha Franklin. His photographs appeared in Time, Newsweek, the New York Times, Washington Post, and the PBS documentary "Eyes on the Prize." Many of them are collected in four books, "Let Us March On" (1992), "Pictures Tell the Story: Ernest C. Withers Reflections in History" (2000), "The Memphis Blues Again: Six Decades of Memphis Music Photographs" (2001), and "Negro League Baseball" (2005).