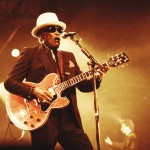 June 21, 2001 John Lee Hooker, singer, songwriter and blues guitarist, died.
Hooker was born August 22, 1917 in Coahoma County near Clarksdale, Mississippi. At the age of 15, Hooker ran away from home and in 1948 landed in Detroit, Michigan, working at the Ford Motor Company and playing in the blues venues and saloons on Hasting Street.
Hooker's recording career began in 1948 and over his career he recorded over 100 albums, including "John Lee Hooker Sings the Blues" (1961), "The Healer" (1989), and "The Best of Friends" (1998). During his career, Hooker won four Grammy Awards. He was a charter inductee to the Blues Hall of Fame in 1980, in 1991 he was inducted into the Rock and Roll Hall of Fame, and in 1996 he received the Blues Foundation Lifetime Achievement Award.
Two of his songs, "Boogie Chillen'" (1948) and "Boom Boom" (1962) were included on the list of the Rock and Roll Hall of Fame's 500 Songs that Shaped Rock and Roll. Hooker won three Grammy Awards, including the Grammy Lifetime Achievement Award in 2000. His biography, "Boogie Man: The Adventures of John Lee Hooker in the 20th Century," was published in 2000.
---