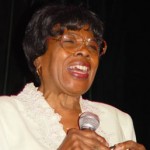 August 30, 2009 Marie Roach Knight, gospel and R&B singer, died.
Knight was born June 1, 1920 in Sanford, Florida. She first toured with evangelist Frances Robinson. In 1946, she made her first recordings as a member of The Sunset Four. That same year, Knight met Sister Rosetta Tharp, and they performed and recorded together until 1951, recording such hits as "Up Above My Head" (1948) and "Gospel Train" (1949).
Knight went solo in 1951, and in 1956 recorded the album "Songs of the Gospel". In the late 1950s, Knight began to record secular music with her biggest hit being "Cry Me a River" in 1965. She also toured with Brook Benton, The Drifters, and Clyde McPhatter. In the mid-1970s, Knight returned to gospel music and recorded "Marie Knight: Today" (1975) and "Let Us Get Together" (2007).