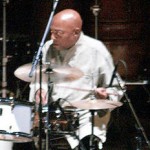 March 13, 1925 Roy Owen Haynes, jazz drummer and bandleader, was born in Boston, Massachusetts.
Haynes made his professional debut in 1944 and from 1947 to 1949 worked with saxophonist Lester Young.
From 1949 to 1952, Haynes was a member of Charlie Parker's quintet and from 1953 to 1958 he toured with Sarah Vaughn. In 1960, Haynes formed his own group, Hip Ensemble. Two of his most recent recordings "Fountain of Youth" (2004) and "Whereas" (2006) have been nominated for Grammy Awards. Over the years, Haynes has shaped some of the most important recordings in jazz history, transforming the percussionist from timekeeper to front-line collaborator.
In 1995, Haynes was designated a NEA Jazz Master, the highest honor bestowed by the United States on a jazz musician, by the National Endowment for the Arts. In 2004, he was inducted into the Down Beat Magazine Hall of Fame and in 2011 he was honored with a Grammy Lifetime Achievement Award. Haynes is the first bop-drummer whose career has been documented with a comprehensive box set, "Life in Time: The Roy Haynes Story" (2007).