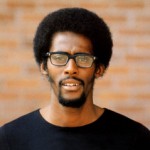 June 1, 1991 Davis Eli "David" Ruffin, former lead singer of The Temptations, died.
Ruffin was born January 18, 1941 in Whynot, Mississippi. He began singing as a young child with his siblings, father, and stepmother in a family gospel group. In 1957, he moved to Detroit and recorded his first single, "You and I" (1958). Other early recordings include "I'm In Love" (1961) and "Knock You Out With Love" (1962).
In 1964, he joined The Temptations and over the four years he was with the group, he sang lead on a number of hits, including, "My Girl" (1964), "It's Growing" (1965), "Beauty is Only Skin Deep" (1966), "I Wish It Would Rain" (1967), and "I Could Never Love Another" (1968). In 1968, he left the group and began a solo career. His first solo recording was "My Whole World Ended" (1969).
Other solo recordings include "I'm So Glad I Feel For You" (1970), "Common Man" (1973), and "Walk Away From Love" (1975). In 1989, Ruffin was inducted into the Rock and Roll Hall of Fame with The Temptations.
---