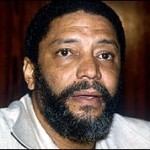 October 19, 1983 Maurice Rupert Bishop, Grenadian politician, was executed by firing squad.
Bishop was born May 29, 1944 and was educated at the London School of Economics with extensive studies in the black power movement. After returning to Grenada in 1973, he was elected head of the Marxist New Jewel Movement political party.
Bishop was elected to Parliament and for several years held the position of leader of the opposition in the Grenadian House of Representatives. In 1979 the ruling party was deposed and Bishop was declared Prime Minister of Grenada. In 1983, Bishop was deposed and placed under house arrest.
On October 19 Bishop and seven others, including cabinet ministers and his mistress, were executed. In May, 2009, the airport was renamed Maurice Bishop International Airport Grenada, in his honor.