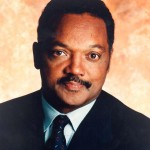 October 8, 1941 Jesse Louis Jackson, Sr., clergyman and civil rights leader, was born in Greenville, South Carolina.
Jackson earned his Bachelor of Arts degree from North Carolina A&T in 1964 and went on to attend the Chicago Theological Seminary with the intent to become a minister. However, in 1966 he dropped out to focus full-time on the Civil Rights Movement. He was ordained in 1968 without a theological degree. He was awarded an honorary theological doctorate from the Chicago Theological Seminary in 1990.
In 1966, Jackson was selected to head the Southern Christian Leadership Conference's Operation Breadbasket in Chicago and in 1967 he was promoted to SCLC National Director. In 1971, Jackson resigned from SCLC to found People United to Save Humanity (PUSH). In 1984 he organized the Rainbow Coalition which was merged in 1996 with Operation PUSH to form Rainbow PUSH.
Jackson has been very prominent internationally. In 1983 he went to Syria to secure the release of a captured American pilot who had been shot down over Lebanon. In 1984 he negotiated the release of 22 Americans being held in Cuba and in 1999 he went to Belgrade to negotiate the release of three U. S. prisoners of war captured while patrolling with a United Nations peacekeeping unit.
In 1984, Jackson became the second African American (after Shirley Chisholm) to mount a nationwide campaign for President of the United States. Four years later he again campaigned for the Democratic Party presidential nomination. In 1997, Jackson founded the Wall Street Project to provide more business and employment opportunities for minorities.
Jackson continues today to speak out for civil rights for all people. Jackson's autobiography, "Straight from the Heart" was published in 1987. Other biographies of Jackson include "Jesse Jackson: America's David" (1985) and "Jesse Jackson and the Politics of Race" (1985).