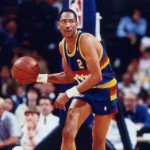 January 5, 1954 Alexander English, hall of fame basketball player, was born in Columbia, South Carolina.
English played collegiate basketball at the University of South Carolina where he was a two-time All-American and graduated in 1976. He was selected by the Milwaukee Bucks in the 1976 NBA Draft.
English spent the majority of his 16 season professional career with the Denver Nuggets and was an eight-time All-Star and led the league in scoring in 1983. In 1988, he was selected for the J. Walter Kennedy Award which is given annually to a NBA player, coach, or trainer who shows "outstanding service and dedication to the community." English retired in 1991 and was inducted into the Naismith Memorial Basketball Hall of Fame in 1997. From 2004 to 2011, English served as the director of player development and an assistant coach for the Toronto Raptors.