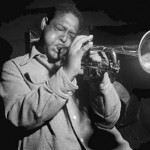 July 7, 1950 Theodore "Fats" Navarro, jazz trumpeter, died. Navarro was born September 24, 1923 in Key West, Florida.
He began playing the piano at the age of six and the trumpet at 13. In 1946, Navarro moved to New York City and his career took off. He played in the bands of Billy Eckstine, Benny Goodman, and Lionel Hampton. He also recorded with Coleman Hawkins, Illinois Jacquet, and Kenny Clarke.
Navarro was posthumously inducted into the Down Beat Jazz Hall of Fame in 1982.