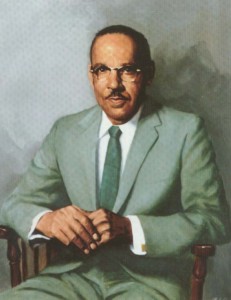 August 29, 1910 Vivien Theodore Thomas, surgical technician and animal surgeon, was born in New Iberia, Louisiana.
After graduating from high school, Thomas had hoped to go to college and become a doctor. However, the Great Depression derailed his plans. In 1930, he secured a job with Dr. Alfred Blalock at Vanderbilt University. Although doing the job of a Laboratory Assistant, Thomas was classified and paid as a janitor.
In 1941, Blalock accepted the position of Chief of Surgery at John Hopkins and requested that Thomas accompany him. On November 29, 1944, using the tools adapted by Thomas from the animal lab and with Thomas at his shoulder coaching him, Blalock performed the first surgery to relieve "blue baby syndrome". The operation came to be known as the Blalock-Taussig shunt, and Thomas received no mention.
Over his 38 years at John Hopkins, Thomas trained many surgeons that went on to become chiefs of surgical departments around the country. Thomas died November 26, 1985 and his autobiography, "Partners of the Heart: Vivian Thomas and his Work with Alfred Blalock" was published that same year. In 2004, his story was told in the HBO film, "Something the Lord Made".
Related posts:
Charles "Bird" Parker, Jr – August 29th in African American History August 29, 1920 Charles "Bird" Parker, Jr., jazz saxophonist and...
Jean Baptiste Pointe du Sable – August 28th in African American History August 28, 1818 Jean Baptiste Pointe du Sable, The Father...