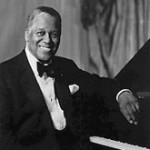 March 29, 2001 John Aaron Lewis, jazz pianist, composer and the musical director of the Modern Jazz Quartet, died.
Lewis was born May 3, 1920 in LaGrange, Illinois but raised in Albuquerque, New Mexico. He began to learn the piano and classical music at the age of seven. In 1942, he graduated from the University of New Mexico with a degree in music and anthropology. After graduating, he served in the United States Army from 1942 to 1945.
After leaving the army, he moved to New York where he worked with Charlie Parker, Illinois Jacquet, Lester Young, and others. In 1950, he joined the Milt Jackson Quartet which later became the Modern Jazz Quartet. From 1954 to 1974, Lewis wrote and performed for the quartet and served as music director. From 1958 to 1982, he also served as music director for the annual Monterey Jazz Festival.
Lewis earned his master's degree from the Manhattan School of Music in 1953 and taught at the City College of New York and Harvard University. He was designated a NEA Jazz Master by the National Endowment for the Arts in 2001 and posthumously inducted into the Down Beat Jazz Hall of Fame in 2002.