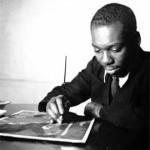 June 9, 2000 Jacob Lawrence, painter, and educator, died.
Lawrence was born September 7, 1919 in Atlantic City, New Jersey. He attended classes at the Harlem Art Workshop and earned a scholarship to the American Artists School. Throughout his artistic career, Lawrence concentrated on depicting the history and struggles of African Americans.
In 1940, his series of paintings of the Haitian general Toussaint L'Ouverture were shown in an exhibit of African American artists at the Baltimore Museum of Art. This was followed by a series of paintings of the lives of Frederick Douglass, Harriet Tubman, and the abolitionist John Brown. In 1942, he completed the sixty-panel set of narrative paintings entitled "Migration of the Negro," now called "The Migration Series."
In the 1940s, Lawrence was given his first major solo exhibition at the Museum of Modern Art and became the most celebrated African American painter in the country. In 1970, Lawrence was awarded the Spingarn Medal by the NAACP. In 1974, the Whitney Museum of American Art held a major retrospective of his work and in 1983 he was elected to the American Academy of Arts and Letters.
In 1990, he was awarded the National Medal of Arts and in 1998 he received The Washington Medal of Merit. After his death, the New York Times called him "One of America's leading modern figurative painters" and "among the most impassioned chroniclers of the African American experience." His work is in the permanent collections of numerous museums, including the Metropolitan Museum of Art, the Whitney Museum, and the Detroit Institute of Arts.
In 2007, the White House Historical Association purchased Lawrence's "The Builders" for $2.5 million. The painting hangs in the White House Green Room.
---