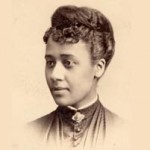 February 27, 1964 Anna Julia Haywood Cooper, author, educator, and scholar, died.
Cooper was born August 10, 1858 in Raleigh, North Carolina and at the age of nine received a scholarship to attend Saint Augustine's Normal School and Collegiate Institute, a school for training teachers to educate formerly enslaved blacks and their families.
After completing her studies, Cooper remained at the institution as an instructor. In 1892, Cooper published her first book, "A Voice from the South: by a Black Woman of the South," which is widely considered the first articulation of black feminism. Its central thesis was that the educational, moral, and spiritual progress of Black women would improve the general standing of the entire African American community and that it was the duty of educated and successful Black women to support their underprivileged peers in achieving their goals.
In 1914, Cooper began courses for her doctorial degree at Columbia University but due to family obligations was forced to stop. In 1924, at the age of 65, she earned her Ph. D. in history from the University of Paris-Sorbonne, the fourth black woman to earn a Doctorate of Philosophy degree.
In 2009, the United States Postal Service issued a commemorative postage stamp in her honor and on pages 26 and 27 of every new United States passport there is the following quote from Cooper, "The cause of freedom is not the cause of a race or a sect, a party or a class – it is the cause of humankind, the very birthright of humanity."