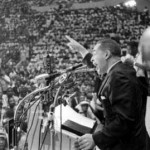 February 20, 2000 Jaramogi Abebe Agyeman (Albert Cleage), religious leader, died.
Cleage was born June 13, 1911 in Indianapolis, Indiana and grew up in Detroit, Michigan. Cleage earned his Bachelor of Arts degree from Wayne State University in 1942 and his Bachelor of Divinity from Oberlin Graduate School of Theology in 1943 and was ordained in the Congregational Church that same year.
After clashing with white Presbyterian leaders over racial issues, in 1953 Cleage formed the Central Congregational Church with a commitment to minister to the downtrodden and offer programs for the poor. In 1967, he launched the Black Christian National Movement which called for black churches to reinterpret Jesus' teachings to suit the social, economic and political needs of black people.
At the same time, he renamed Central Congregational the Shrine of the Black Madonna. In 1968, he published "The Black Messiah," which detailed his vision of Jesus as a black revolutionary leader and in 1972 he published "Black Christian Nationalism," and inaugurated the Black Christian Nationalist Movement as a separate denomination.
The name of the denomination was later changed to the Pan African Orthodox Christian Church and they continue the mission to uplift and liberate the Pan African world community through the teachings of Jesus, the Black Messiah.
---