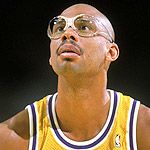 April 16, 1947 Ferdinand Lewis Alcindor (Kareem Abdul-Jabbar), hall of fame basketball player, coach, actor and author, was born in New York City.
Abdul-Jabbar began his record breaking basketball accomplishments in high school when he led Power Memorial Academy to three straight New York City Catholic championships. Abdul-Jabbar played college basketball at the University of California from 1966 to 1969 and led them to three NCAA Division I Basketball Championships. He was a three-time First Team All-American, two-time Player of the Year and in 1969 was named the first ever Naismith College Player of the Year.
Abdul-Jabbar graduated from UCLA in 1969 with a Bachelor of Arts degree in history. Abdul-Jabbar was selected by the Milwaukee Bucks in the 1969 NBA draft and was the 1970 NBA Rookie of the Year. Over his 20 season professional career, Abdul-Jabbar was a six-time NBA champion, six-time Most Valuable Player, 19-time All-Star, and in 1985 was named Sports Illustrated Magazine's Sportsman of the Year. Abdul-Jabbar retired from basketball in 1989 and in 1996 was named one of the 50 Greatest Players of All Time.
In 1995, Abdul-Jabbar was inducted into the Naismith Memorial Basketball Hall of Fame and in 2007 he was inducted into the National Collegiate Basketball Hall of Fame. He has made numerous film appearances, including "Game of Death" (1978) and "Airplane" (1980).
Abdul-Jabbar has also authored a number of books, including his autobiography "Giant Steps" (1983), "Black Profiles in Courage: A Legacy of African American Achievement" (1996), "A Season on the Reservation: My Sojourn with the White Mountain Apaches" (2000), "Brothers in Arms: The Epic Story of the 761st Tank Battalion, WWII's Forgotten Heroes" (2004), and "On the Shoulders of Giants: My Journey Through the Harlem Renaissance."
---