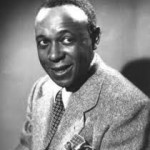 February 28, 1977 Edmund Lincoln "Rochester" Anderson, radio, television and film actor, died.
Anderson was born September 18, 1905 in Oakland, California. He began his show business career at the age of 14 in a song and dance act called Three Black Aces. Anderson was best known for playing Rochester van Jones, the valet for Jack Benny on radio and television. Anderson first appeared on the show in March, 1937 and remained with the show until 1955.
Anderson also appeared in more than 60 films, including "What Price Hollywood?" (1932), "Jezebel" (1938), "Gone with the Wind" (1939), and the all-black musical film "Cabin in the Sky" (1943). His last film appearance was in the 1963 comedy "It's a Mad, Mad, Mad, Mad World." Anderson was one of the highest paid performers of his time and he invested wisely and became very wealthy. His home in Los Angeles was opened in 1989 as Rochester House and is dedicated to helping troubled men transition into society.
In 2001, Anderson was posthumously inducted into the Radio Hall of Fame.
---