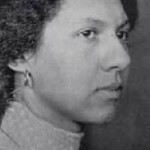 March 18, 1968 Meta Vaux Warrick Fuller, painter and sculptor, died.
Fuller was born June 8, 1877 in Philadelphia, Pennsylvania. Her career as an artist began when one of her high school projects was chosen to be included in the 1893 World's Columbian Exposition.
Based on that work, she won a scholarship to the Pennsylvania Museum & School of Industrial Art. Fuller graduated with honors in 1898 and in 1899 traveled to Paris, France for additional training. She returned to Philadelphia in 1902 and became the first African American woman to receive a United States government commission when she was commissioned to create several dioramas depicting African American historical events for the Jamestown Tercentennial Exposition in 1907. Fuller's most famous work, "The Awakening of Ethiopia" (1910), is in the collection of the Schomburg Center for Research in Black Culture. "An Independent Woman: The Life and Art of Meta Warrick Fuller (1877-1968)" was published in 1984. Fuller Middle School in Framingham, Massachusetts is named in honor of Fuller and her husband.