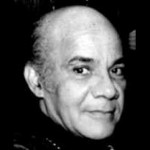 October 27, 1987 John Oliver Killens, novelist, died.
Killens was born January 14, 1916 in Macon, Georgia. He attended a number of institutions of higher learning, including Morris Brown College, Howard University, and Columbia University, but never earned a degree. After serving in the military, Killens moved to New York City in 1948 to focus on establishing a literary career.
Around 1950, he co-founded a writer's group that became the Harlem Writers Guild. In 1954, Killens' first novel, "Youngblood," was published. Amongst the other novels that he wrote, "And Then We Heard the Thunder" (1962) and "The Cotillion or One Good Bull is Half the Herd" (1971), were nominated for the Pulitzer Prize.
In 1986, Killens founded the National Black Writers Conference at Medgar Evers College where he taught English.