Jackie Robinson Day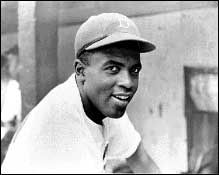 Baseball fans may find themselves doing double-takes while watching a major-league game on April 15, seeing the number "42" on the back of every uniform. The reason? April 15th is "Jackie Robinson Day," marking the anniversary of Robinson's debut with the Brooklyn Dodgers in 1947, ending over six decades of racial segregation in "America's Pastime." Robinson's significant contributions to both the game and American civil rights were recognized by Major League Baseball, first in 1997 when his uniform number (42) was retired by all teams, and in 2004 MLB decreed that every player would wear the number "42" each April 15th to honor the trailblazing Hall of Famer's distinguished career and life.
EARLY LIFE
Born in Georgia, the fifth child of sharecroppers, Robinson and family moved to southern California not long after his first birthday. His formative years were marked by poverty, with his primary escape being athletics, at which he excelled. In high school, he played four sports (baseball, basketball, football, track and field), lettering and starring in each. After graduation, he enrolled at Pasadena Junior College, where his athletic exploits continued. Near the end of his final season at Pasadena, the death of his brother Frank (in a motorcycle accident) affected him greatly, and he began to take both his academics and athletics more seriously. When UCLA offered him a full scholarship, Robinson accepted and he became the first student-athlete in Bruin history to letter in four sports.
With the outbreak of World War II, Robinson was drafted into the Army, and he soon attained the rank of second lieutenant. An incident involving Robinson's refusal to move to "the back of the bus" in July, 1944 led to questionable charges which subsequently prevented him from advancing his military career. Eventually acquitted on all counts, Robinson received an honorable discharge late in 1944.
APRIL 15, 1947
Playing with the Negro League's Kansas City Monarchs in 1945 season, Robinson attracted the attention of Branch Rickey, president/GM of the Brooklyn Dodgers. Rickey had been searching for a qualified Negro player to integrate his ballclub, and after secretly scouting several candidates, had decided that Jackie Robinson was his man. Following a successful 1946 season playing for the Montreal Royals, Branch Rickey called Robinson up to the big leagues just prior to the 1947 season.
It was at Ebbets Field on April 15 that Jackie Robinson took the field for the Dodgers. The crowd was almost 5,000 shy of capacity, but well over half of them were black, who'd come to show their support for this new pioneer. Robinson went hitless, but he drew a walk and scored a run, displayed daring base-running. Despite almost constant taunting and race-baiting, Robinson persevered, earning Rookie of the Year honors.
LEGACY
Jackie Robinson went on to play ten seasons with the Dodgers, compiling a .311 batting average, winning the 1949 NL MVP, leading the Dodgers to the 1955 World Championship, and was selected to six All-Star games. In 1962, he became the first African-American to be elected to baseball's Hall of Fame.
42 The Movie
The current film, "42," chronicles the events leading up to Robinson's signing and historic debut. Rather than dwell on his on-field exploits, the film instead attempts to focus on the incredible inner strength and determination he displayed in the face of unimaginable opposition. Chadwick Boseman portrays Robinson, with Harrison Ford playing Branch Rickey.
"42" doesn't address the issue, but baseball's powers-that-be are hoping that the film will help increase interest in the game among young black athletes. Baseball's current active rosters are only 7.7% African-American, the lowest in more than half a century. Perhaps after seeing Robinson's inspiring story, more talented young black athletes will consider baseball as a viable alternative for an athletic career.