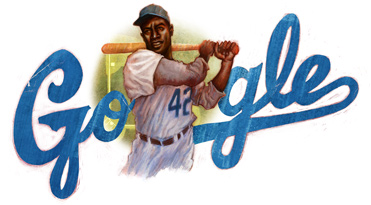 Jackie Robinson is one of the most influential players in professional baseball to ever put on the jersey. This is not only because of his skill as a player, but his grace as well. He was the first African American to ever make it to the big leagues, and although he faced discrimination at every turn, he proved he was able to hold his own and perform at an exceptional level.
Google reminds the country and the world that January 31st, 2013 would have been Jackie's 94th birthday through a specially created Google doodle. The legacy of Jackie Robinson's athletic feats and African American firsts continue to impact us far beyond the baseball field.
Jackie Robinson made his climb to professional baseball in 1945, where he played for the Kansas City Monarchs. This was part of the Negro leagues, where African Americans and others of non-European decent were forced to play, as they were considered inferior to white players. After just a single season though, he moved up to the Montreal Royals, part of the International league system. After only a single season with the Royals, he made it into the big leagues, starting at second base for the Brooklyn Dodgers in 1947.
The Montreal Royals were a AAA minor league team, which is essentially the highest level of minor league available, right before the majors. There are thousands of plays throughout the history of baseball who have never made it out of AAA, as it is extremely competitive and often times it requires an injury for someone to be called up from AAA in order to make it into the majors. Six days before the start of the 1947 season, Jackie Robinson was called up to the majors and, although in his first game he played first base and did not get a hit, he became the first person of color to play professional baseball since the 1880 season.
Jackie Robinson had to face racism among not only fans, but also his own team and opposing teams. The clubhouse was rather tense, as many of the other Dodger players would rather sit out than play alongside Robinson. However, the Dodger's manager told his players that he did not care what color his skin was, because he was going to play, and if anyone didn't want to play with him, then the manager told them they would be traded away for those who would.
Although he won over the respect of players due to his skill, he won over the country by his grace. Jackie will continue to be remembered and Google's new doodle will help remind many that his contributions will not be forgotten.