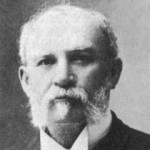 December 11, 1916 John Edward Bush, co-founder of the Mosaic Templars of America (MTA), died.
Bush was born enslaved on November 14, 1856 in Moscow, Tennessee. He and his family were freed after the Civil War and moved to Little Rock, Arkansas. His mother died soon after moving to little rock leaving John and his sister poor and often homeless, Bush washed dishes and ran errands for strangers earn food.
Colonel R.C. Lacy saw him in the streets one day and dragged him to school.  Bush graduated with honors from Capitol Hill City School in 1876 and served as its principal for two years immediately following graduation.
In 1883, Bush co-founded MTA, an African American fraternal organization which by 1930 had grown to international scope, spanning 26 states and 6 foreign countries. It was one of the largest and most successful black-owned business enterprises in the world and Bush was acknowledged as one of the wealthiest black men in Arkansas. Some of the companies within the MTA were a hospital, a building and loan association, an insurance company, a nursing school, a business college and a publishing company.   Upon founding MTA, Bush met and became close with many black leaders of the day, including Booker T. Washington.
In 1898, President William McKinley appointed Bush the receiver of the United States Land Office in Little Rock and he was subsequently reappointed four additional terms by Presidents Theodore Roosevelt and William Howard Taft. Bush believed that land ownership was a central key to respect among whites and economic independance.
In 1900, John Bush became a charter member of the National Negro Business League (NNBL) which was founded by his good friend Booker T. Washington.  He sat on the excutive committee for 4 years.
High unemployment in the 1930's required the Mosaic Templars to go into receivership and terminate operations.
After Bush's death, both his son's continued to lead the MTA.  Chester E. Bush became the National Grand Secretary of the Mosaic Templars and Aldridge E. Bush became Secretary and Treasurer of the monument department.
In 1992, the Society for the Preservation of the Mosaic Templars of America Building was established to restored and preserve the history.  The Mosaic Templars of America Center for African American Culture & Business Enterprise  was approved by the Arikansas legislative in 2001 as a state agency directed by the Department of Arkansas Heritage.  With construction well underway of the 92 year building, a fire in 2005 destroyed everything.  The society is again rebuilding the building to reflect the 1920's architecture to anchor the black business district of Little Rock along West Ninth Street.