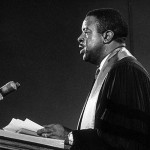 March 11, 1926 Ralph David Abernathy, minister and civil rights leader, was born in Linden, Alabama.
After serving in the United States Army during World War II, Abernathy graduated with honors and a Bachelor of Science Degree in Mathematics from Alabama State University in 1950 and in 1951 earned a Master of Science degree in Sociology from Atlanta University. Abernathy began his professional career in 1950 at Alabama State University as personnel director and later served as dean of men and professor of social studies and mathematics.
In 1952, he was called as the senior pastor of the largest black church in Montgomery, Alabama, where he served for ten years. In 1955, Abernathy organized the first mass meeting of the Montgomery Bus Boycott and he served as vice president of the Montgomery Improvement Association. In 1957, Abernathy was one of the co-founders of the Southern Christian Leadership Conference and served as the first financial secretary/ treasurer and vice president at-large. In 1961, he assumed the pastorate of the West Hunter Street Baptist Church in Atlanta, where he served until his death.
After the death of Dr. Martin Luther King, Jr., Abernathy assumed the presidency of SCLC and led the march to support striking sanitation workers in Memphis and the Poor People's Campaign in Washington, D. C. Abernathy resigned the presidency in 1977 and died April 17, 1990.
During his lifetime he was honored with more than 300 awards and citations, including five honorary doctorate degrees. In 1989, his autobiography, "And the Walls Came Tumbling Down," was published.