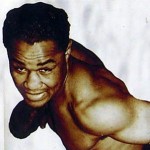 December 12, 1912 Henry Jackson, Jr. (Henry Armstrong), the first boxer to hold world titles in three separate weight classes at the same time, was born in Columbus, Mississippi.
Jackson assumed the surname of his mentor and trainer, Harry Armstrong, in 1931. Because the fight purses were small, Armstrong usually fought 12 times a year. On October 29, 1937, he won the Featherweight Championship of the world; on May 31, 1938 the Welterweight Championship of the world; and on August 17, 1938 the Lightweight Championship of the world.
Ring Magazine named Armstrong Boxer of the Year for 1938. In 1939, Armstrong produced and starred in an autobiographical movie, "Keep Punching." After losing his titles, Armstrong retired from boxing in 1945 with a professional record of 149 wins and 29 losses. In 1951, Armstrong was ordained a Baptist minister and he created the Henry Armstrong Youth Foundation, which he funded with the profits from the two books he had written, "Twenty Years of Poem, Moods, and Mediations" (1954) and his autobiography "Gloves, Glory, and God" (1956).
In 1954, Armstrong was a charter inductee, along with Joe Louis and Jack Dempsey, to the Boxing Hall of Fame.
Armstrong died October 22, 1988 and was posthumously inducted into the International Boxing Hall of Fame in 1990.