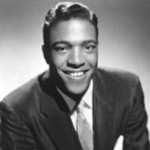 June 13, 1972 Clyde McPhatter, rhythm and blues singer, died.
McPhatter was born November 15, 1932 in Durham, North Carolina. From 1950 to 1953, he performed with Billy Ward & the Dominoes who recorded "Sixty Minute Man" (1951) and "Have Mercy Baby" (1952). In 1953, McPhatter quit that group and formed the Drifters who released a number of hits, including "Money Honey" (1953) and "Whatcha Gonna Do" (1955).
The Original Drifters, including McPhatter, were inducted into the Vocal Group Hall of Fame in 1998 and "Money Honey" was inducted into the Grammy Hall of Fame in 1999 as a recording of "qualitative or historical significance." In 1954, McPhatter was drafted into the United States Army. After his tour of duty was up, he left the Drifters for a solo career. He had a series of hits, including "Treasure of Love" (1956), Long Lonely Nights" (1957), "A Lovers Question" (1958), and "Take My Love (I Want to Give It All to You)" (1961).
McPhatter was posthumously inducted into the Rock and Roll Hall of Fame in 1987 and in 1993 the United States Postal Service issued a commemorative postage stamp in his honor.
---