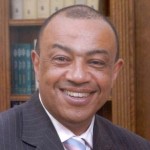 June 14, 1951 Paul Yaw Boateng, the first black cabinet minister in the United Kingdom, was born in Hackney, London, but, raised in Ghana.
In 1966, his family was forced into exile in Britain after the coup against Kwame Nkrumah. Boateng earned his LLB degree from the University of Bristol in 1976 and began to practice civil rights law. He worked primarily on cases involving women's rights, housing, and police complaints.
Boateng was elected to the Greater London Council for Walthamstow in 1987 where he advocated greater accountability in the police and spoke out against racism in their dealings with the black and Asian communities. In 1987, he was elected to parliament and in 1997 he became the United Kingdom's first black government minister as Parliamentary Under Secretary of State at the Department of Health.
In that position, he published guidelines to end the denial of adoption purely on the basis of race. In 2002, Boateng was appointed Chief Secretary to the Treasury, making him Britain's first black cabinet minister, a position he held until 2005. From 2005 to 2009, he served as British High Commissioner to South Africa.
In 2010, Boateng was made a member of the House of Lords and in his maiden speech he highlighted the needs of poor and disadvantaged children.