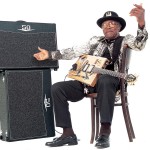 June 2, 2008 Bo Diddley, vocalist, guitarist, and songwriter, died.
Diddley was born Elias Otha Bates on December 30, 1928 in McComb, Mississippi. In 1934, his family moved to Chicago where in the early 1940s he began to perform. In 1954, he recorded "Bo Diddley" which became a number one R&B hit in 1955. Diddley continued to have hits during the late 1950s and early 1960s, including "Pretty Thing" (1956), "Say Man" (1959), and "You Can't Judge a Book by the Cover" (1962).
Between 1958 and 1963, he released eleven full-length albums. In 1987, Diddley was inducted into the Rock and Roll Hall of Fame, in 1998 he received a Lifetime Achievement Award from the Rhythm and Blues Foundation and a Grammy Lifetime Achievement Award, and in 1999 his song "Bo Diddley" was inducted into the Grammy Hall of Fame, as a recording of "lasting qualitative or historical significance."
Diddley played at the presidential inaugurations of President George W. Bush in 1989 and President William Clinton in 1993.
---