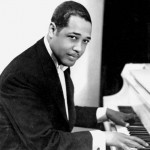 May 24, 1974 Edward Kennedy "Duke" Ellington, composer, pianist, and big band leader, died.
Ellington was born April 29, 1899 in Washington, D. C. He began taking piano lessons at the age of 7 and at 14 wrote his first composition, "Soda Fountain Rag." At the age of 18, he formed his first group, The Duke's Serenaders, who played throughout the Washington area. In 1924, Ellington made eight recordings, composing three including "Choo Choo" and in 1925 he contributed four songs to the African American revue "Chocolate Kiddies."
In 1927, Ellington and his band began playing at Harlem's Cotton Club and weekly radio broadcasts from the club gave them national exposure. Ellington delivered some of his biggest hits during the 1930s and early 1940s, including "Mood Indigo" (1930), "Sophisticated Lady" (1933), "Caravan" (1937), and "Take the A Train" (1941). In 1943, with "Black, Brown and Beige" which told the story of African Americans and the place of slavery and the church in their history, Ellington began to compose and perform longer form jazz suites. Other innovative recordings include "Such Sweet Thunder" (1957), "The Far East Suite" (1966), and "The Afro-Eurasian Eclipse" (1971).
Ellington also worked on film scores, including "Anatomy of a Murder" (1959) and "Paris Blues" (1961). Ellington earned 13 Grammy Awards, including the Grammy Lifetime Achievement Award in 1966, and 9 of his recordings were inducted into the Grammy Hall of Fame as recordings of "qualitative or historical significance." Additionally, he was inducted into the Down Beat Jazz Hall of Fame in 1956, won the NAACP Spingarn Medal in 1959, was presented with the Presidential Medal of Freedom by President Richard Nixon in 1969, awarded the Legion of Honor by France in 1973, and inducted into the Big Band and Jazz Hall of Fame in 1978.
In 1986, the United States Postal Service issued a commemorative postage stamp in his honor and in 2009 the U.S. Mint issued a special Washington D.C. quarter featuring his image, making him the first African American to appear by himself on a circulating U.S. coin. Ellington's autobiography, "Music is My Mistress," was published in 1976.
---