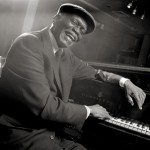 May 16, 2010 Henry "Hank" Jones, jazz pianist, bandleader, and composer, died.
Jones was born July 31, 1918 in Vicksburg, Mississippi but raised in Pontiac, Michigan. He studied piano at an early age and by the age of 13 was performing in Michigan and Ohio. In 1944, he moved to New York City and from 1948 to 1953 he was accompanist for Ella Fitzgerald. From 1959 to 1975, Jones was staff pianist for CBS studio, which included backing guests like Frank Sinatra on the "Ed Sullivan Show."
Jones recorded prolifically as an unaccompanied soloist, in duos with other pianist, and with various small ensembles. His recordings include "Bop Redux" (1977), "I Remember You" (1977), "Steal Away" (1995), and "Round Midnight" (2006). In 1989, he was designated a NEA Jazz Master by the National Endowment for the Arts, in 2003 he received the Jazz Living Legend Award from the American Society of Composers, Authors and Publishers, in 2008 he received the National Medal of Arts, and in 2009 he was inducted into the Down Beat Jazz Hall of Fame. Jones was nominated for five Grammy Awards and in 2009 received the Grammy Lifetime Achievement Award.
---