February 27, 1942 Charlayne Hunter-Gault, journalist and foreign correspondent, was born in Due West, South Carolina.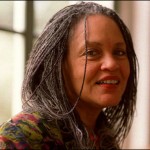 Hunter-Gault attended Wayne State University from 1959 to 1961, the year that she and Hamilton Holmes became the first African Americans to attend the University of Georgia.
She earned her Bachelor of Arts degree in journalism from the university in 1963. Hunter-Gault was the first African American reporter for The New Yorker Magazine and the second for The New York Times. She was the chief correspondent in Johannesburg, South Africa for CNN from 1977 to 1999 and the bureau chief from 1999 to 2005. She won two Peabody Awards and two Emmy Awards for her series "Apartheid's People."
In 1992 Hunter-Gault published her memoir, "In My Place," about her experiences at the University of Georgia and in 2001 the university renamed its academic building the Hunter-Holmes Academic Building. Hunter-Gault is the recipient of more than two dozen honorary degrees and in 2005 she was inducted into the National Association of Black Journalists' Hall of Fame. In 2006, she published "New News Out of Africa" which documented positive developments in Africa.