February 28, 1968 Juanita Hall, musical theater and film actress, died.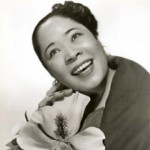 Hall was born November 6, 1901 in Keyport, New Jersey and after receiving classical training at Julliard School became a leading Broadway performer.
Hall began singing and playing small roles in theatre in the northeast. In 1935, she appeared on Broadway in Sailor Beware. Over the next few years she made a couple of recordings for Victor Records, accompanied by jazz trombonist Bennie Morton and his orchestra.
By the the mid-40s, opportunities for black roles started heading her way.  She played in the chorus in Sing Out Sweet Land (1944) and Show Boat (1946). Then on to supporting roles in St. Louis Woman (1946) and Street Scene (1947).  Hall was known for her show-stopping performances of 'Bali Ha'i' and 'Happy Talk'. In 1954 she had another good role as Madam Tango in House Of Flowers.
Although Hall, played many parts throughout her career, she is most famous for playing Bloody Mary in South Pacific.  A role which she was specifically picked by Rogers and Hammerstein. She performed the role of Bloody Mary, a Pacific Islander, in the musical "South Pacific" for 1,925 performances on Broadway and in 1950 became the first African American to win a Tony Award for Best Performance by a Featured Actress in a Musical for the role. In 1958, she reprised the role in the film version of "South Pacific." She also performed on Broadway in "Flower Drum Song" as a Chinese-American.