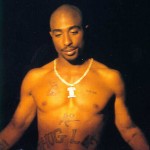 June 16, 1971 Tupac Amaru Shakur, hip hop rapper and actor, was born in New York City.
Shakur was named after Tupac Amaru II, a Peruvian revolutionary who led an indigenous uprising against Spain and was subsequently executed. In 1986, his family moved to Baltimore where Shakur attended the Baltimore School for the Arts and studied acting, poetry, jazz, and ballet.
Shakur's professional career began in 1990 and in 1991 he released his debut solo album, "2Pacalypse Now." Other albums released during his life include "Me Against the World" (1995) and "All Eyes on Me" (1996) which is one of the highest selling rap albums of all time. Shakur also appeared in several movies, including "Juice" (1992), "Poetic Justice" (1993), and "Bullet" (1996).
Shakur died September 13, 1996 as the result of a drive-by shooting in Las Vegas. Several of his albums were released posthumously, including "R U Still Down? (Remember Me)" (1997), "Until the End of Time" (2001), and "Loyal to the Game" (2004). Shakur is recognized in the Guinness Book of World Records as the highest selling rap artist with over 75 million albums sold worldwide. In 2002, he was posthumously inducted into the Hip Hop Hall of Fame and in 2003 the Academy Award-nominated documentary "Tupac: Resurrection" was released.