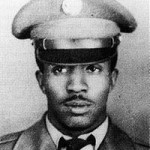 August 2, 1951 William Henry Thompson was posthumously awarded the Medal of Honor, the military's highest decoration, for his actions during the Korean War.
Not much is known of Thompson's early life other than he was born August 16, 1927 in New York City. On August 6, 1950, he was serving as a private first class in Company M, 24th Infantry Regiment, 25th Infantry Division near Haman, South Korea. His actions on that day earned him the medal.
Thompson's citation partially reads: "While his platoon was reorganizing under the cover of darkness, fanatical enemy forces in overwhelming strength launched a surprise attack on the unit. Pfc. Thompson set up his machine gun in the path of the onslaught and swept the enemy with withering fire, pinning them down momentarily thus permitting the remainder of his platoon to withdraw to a more tenable position.
Although hit repeatedly by grenade fragments and small-arms fire, he resisted all efforts of his comrades to induce him to withdraw, steadfastly remained at his machine gun and continued to deliver deadly, accurate fire until mortally wounded by an enemy grenade." Thompson died from his wounds on August 23, 1950.