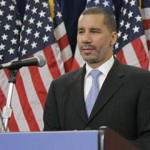 May 20, 1954 David Alexander Paterson, the first African American Governor of New York and the second legally blind Governor of any state, was born in Brooklyn, New York.
At the age of three months, Paterson contracted an infection which left him with no sight in his left eye and limited vision in his right. He earned a Bachelor of Arts degree in history from Columbia University in 1977 and a law degree from Hofstra Law School in 1983. After law school, Paterson worked for the Queens District Attorney's Office until 1985 when he won a special election to the New York State Senate.
In 2002, he was elected Minority Leader, making him the first non-white state legislative leader and the highest ranking black elected official in the history of New York State. In 2006, Paterson was elected Lieutenant Governor and in 2008 when the Governor was forced to step down, Paterson became Governor of the State of New York.