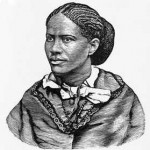 February 22, 1911 Francis Ellen Watkins Harper, abolitionist and poet, died.
Harper was born September 24, 1825 in Baltimore, Maryland. She was an only child to free African American parents and when her mother died when she was only three, she wen to live with her aunt and uncle.  She attended school for black youths until she was thirteen and then found housecleaning work.
She spent two years teaching in Pennsylvania and Ohio and then set out as an abolitionist speaker.  While helping many slaves escape through the Underground Railroad, she wrote for many anti-slavery newspapers, earning her the nickname of "Mother of African American Journalism".
She had her first volume of poems, "Forest Leaves," published in 1845 and her second book, "Poems on Miscellaneous Subjects," published in 1854.
Other works by Harper include "Poems" (1857), "The Martyr of Alabama and Other Poems" (1892), and "Atlanta Offering" (1895). In 1853, Harper joined the American Anti-Slavery Society and became a traveling lecturer for the group. She was also a strong supporter of prohibition and women's suffrage. In 1892, Harper published "Iola Leroy, or Shadows Uplifted," one of the first novels by an African American woman.
In 1897, she was elected vice president of the National Association of Colored Women. Studies of Harper include Melba Joyce Boyd's "Discarded Legacy: Politics and Poetics in the Life of Francis E. W. Harper" (1994).