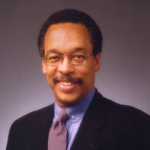 February 15, 1946 Bruce Scott Gordon, former president of the NAACP, was born in Camden, New Jersey.
Gordon earned his Bachelor of Arts degree from Gettysburg College in 1968 and his Master of Business Administration degree in management from the MIT Sloan School of Management in 1988.
After earning his undergraduate degree, Gordon joined Bell of Pennsylvania as a management trainee and rose to head of the Retail Markets Division at Verizon at the time of his retirement in 2003. Black Enterprise magazine named him Executive of the Year in 1998. In June, 2005, Gordon was named president of the NAACP, a position he held until his resignation in March, 2007.
Gordon is currently a diversity consultant and serves on several boards, including CBS Corporation, Northrop Grumman Corporation, Tyco International, U.S. Fund for UNICEF, and the National Underground Railroad Freedom Center. In 2007, the American Advertising Federation inducted him into the Advertising Hall of Fame.