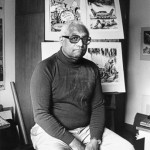 February 14, 1912 Oliver Wendell "Ollie" Harrington, cartoonist and political satirist, was born in Valhalla, New York.
Harrington started drawing cartoons at a young age and went to work for the Amsterdam News as a cartoonist and political satirist.
In 1935, he created "Dark Laughter" a single panel cartoon which appeared in the African American press until 1960. In the 1940s, he worked for the NAACP and established their public relations department. While there, he published "Terror in Tennessee: The Truth about the Columbia Outrages" (1946) which was an expose of increased lynching violence in the post-World War II South.
Harrington left the NAACP in 1947 and returned to cartooning, but his work brought him scrutiny from the FBI and the House Un-American Activities Committee. As a result, he moved to Paris, France in 1951 and to East Berlin, Germany where he died on November 2, 1995. Harrington published "Why I Left America and Other Essays" in 1993. "Dark Laughter: The Satiric Art of Oliver W. Harrington," a collection of his cartoons, was published in 1993.