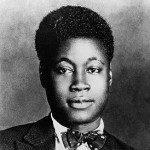 May 22, 1948 Claude McKay, writer and poet, died.
McKay was born September 15, 1889 in James Hill, Clarendon, Jamaica. He started writing poetry at the age of ten. McKay published his first book of poems, "Songs of Jamaica," in 1912. McKay emerged as one of the first and most militant voices of the Harlem Renaissance and was regarded as one of the major poets of the movement.
A couple of his most famous poems were the militant "If We Must Die" (1919) and his self-portrait "Outcast" (1922). In 1928, McKay published his most famous novel, "Home to Harlem," which won the Harmon Gold Award for Literature. The tone for many of his works was race conscious and revolutionary.
He was an advocate for full civil liberties and racial solidarity. His works heavily influenced a generation of black authors, including James Baldwin and Richard Wright. Biographies of McKay include "Claude McKay: Rebel Sojourner in the Harlem Renaissance" (1987) and "Claude McKay: A Black Poet's Struggle for Identity" (1992).