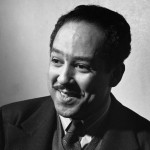 May 22, 1967 James Mercer Langston Hughes, poet, novelist, and playwright, died.
Hughes was born February 1, 1902 in Joplin, Missouri. He began writing in high school where he wrote for the school newspaper, edited the yearbook, and wrote short stories, poetry, and dramatic plays. Hughes earned a Bachelor of Arts degree from Langston University in 1929. Hughes' signature poem, "The Negro Speaks of Rivers," was first published in the NAACP Crisis Magazine in 1921.
Other poems by Hughes include "Dear Lovely Death" (1931), "Let America Be America Again" (1938), and "Shakespeare in Harlem" (1942). Fiction works by Hughes include "Not Without Laughter" (1930), "Sweet Flypaper of Life" (1953), and "Simple's Uncle Sam" (1965); and plays include "Mulebone" (1931) with Zora Neale Hurston, "Emperor of Haiti" (1936), and "Black Nativity" (1961). In 1960, Hughes was awarded the NAACP Spingarn Medal, and in 1961 he was inducted into the National Institute of Arts and Letters.
After his death, his ashes were interred beneath a floor medallion in the middle of the foyer leading to the auditorium named for him within the Arthur Schomburg Center for Research in Black Culture in Harlem. In 2002, the United States Postal Service issued a commemorative postage stamp in his honor. The chief sources of biographical information about Hughes are his autobiographical "The Big Sea" (1940) and "I Wonder as I Wander: An Autobiographical Journey" (1956).
---