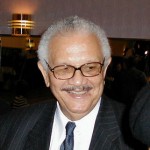 May 23, 2004 Vernon D. Jarrett, newspaper, television, and radio journalist, died.
Jarrett was born June 19, 1921 in Paris, Tennessee. He earned his Bachelor of Arts degree from Knoxville College in 1941. In 1946, he moved to Chicago and began his career at the Chicago Defender. For three years beginning in 1948, he co-produced "Negro Newsfront," the first daily radio news broadcast in the United States created by African Americans.
In 1970, Jarrett became the first African American syndicated columnist for the Chicago Tribune. Also during that time, he was a host on the Chicago ABC-TV affiliate where he produced nearly 2,000 television broadcasts. In 1977, he founded ACT-SO, the Afro-American Academic, Cultural, Technological and Scientific Olympics. Jarrett retired in 1995 and over his career he was nominated for seven Pulitzer Prizes for editorial writing.
The Vernon Jarrett Medal for Journalistic Excellence is awarded annually by the Institute for Advanced Journalism Studies at North Carolina A&T University to honor "outstanding coverage of people of African descent and the issues that impact their lives."