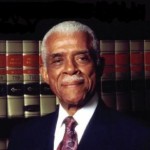 December 20, 1968 George Edward Chalmer Hayes, lawyer, died.
Hayes was born July 1, 1894 in Richmond, Virginia. He earned his bachelor's degree from Brown University in 1915 and earned his law degree from Howard University School of Law in 1918. While at Howard, he attained one of the highest academic averages on record there.
As a member of the District of Columbia Board of Education from 1945 to 1949, Hayes worked to desegregate the public schools in the capitol. He was the lead attorney in the 1954 Supreme Court case, Bolling v. Sharpe, in which the court decided that the Due Process Clause of the Fifth Amendment implicitly forbade most racial discrimination by the federal government.
In 1955, President Dwight Eisenhower appointed Hayes to the District of Columbia Public Utilities Commission, the first African American to serve on the commission. In 1962, the District of Columbia Bar Association named him to its Board of Directors, making him the first African American to hold office in that organization.