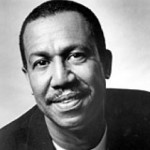 December 21, 1945 George Faison, dancer and choreographer, was born in Washington, D.C.
Faison entered Howard University in 1964 to study dentistry, but dropped out in 1966 to pursue a career in dance. He moved to New York City and joined the Alvin Ailey American Dance Theater in 1967 and remained there through 1969. In 1971, he formed his own group, the George Faison Universal Dance Experience.
He served as dancer and choreographer, creating original works such as "Suite Otis" (1971) set to the music of Otis Redding. He also created pieces with a historical and political bend such as "Poppy" (1971) which dealt with the problem of drug addiction. Faison made his choreographic debut on Broadway with "Don't Bother Me, I Can't Cope" in 1972. In 1974, he choreographed "The Wiz" and won the Tony Award for Best Choreographer, the first for an African American in that category.
Faison has choreographed more than 30 other plays and musicals, including "Via Galactica" (1973), "1600 Pennsylvania Avenue" (1976), "Porgy and Bess" (1983), which earned him the Tony Award nomination for Best Choreograher, and "Sing, Mahalia, Sing" (1985). He was nominated for the Emmy Award for Outstanding Achievement in Choreography for his work on the HBO production "The Josephine Baker Story" (1991).