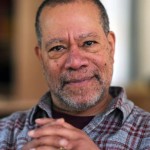 December 22, 1939 Jerry Pickney, award winning illustrator of children's books, was born in Philadelphia, Pennsylvania.
Pickney began drawing at the age of four and earned a scholarship to the Philadelphia Museum College of Art. After graduation, he held a number of positions in the field of design and illustration.
Eventually he opened the Jerry Pickney Studio and began illustrating children's books in 1964. He most often works on books that celebrate multiculturalism and African American heritage. Books he has illustrated include "The Tales of Uncle Remus" (1987), "Black Cowboy, Wild Horses" (1998), and "The Old African" (2005). As a result of his work, Pickney is a five-time winner of the Coretta Scott King Award, four-time winner of the New York Times Best Illustrated Award.  Pickney was awarded the 2010 Caldecott Medal for his work in the children's book, The Lion & The Mouse. Pickney has also designed twelve postage stamps for the United States Postal Service's Black Heritage series.
In 2012, Jerry was inducted into the American Academy of Arts and Sciences.  His artwork can be found in the New York Public Library, the Library of Congress, and the National Museum of Wildlife Art.