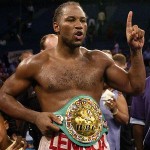 September 2, 1965 Lennox Claudius Lewis, hall of fame boxer, was born in London, England but raised in Ontario, Canada.
Lewis was a dominant amateur boxer and in 1983 won the World Amateur Junior championship. In 1988, he won the super heavyweight boxing Gold medal at the Seoul Olympic Games. After the Olympics, Lewis turned professional and in 1990 won the European heavyweight title, in 1991 the British heavyweight title, and in 1992 the Commonwealth heavyweight title.
In 1993, Lewis won the WBC heavyweight championship, making him the first world heavyweight titleholder from Britain in the 20th century, and in 1999 he became the undisputed Heavyweight Champion of the World. That year, he was also voted the BBC Sports Personality of the Year. Lewis retired from boxing in 2003 with a record of 41 wins, 2 losses, and 1 draw. In 2008, Lewis was inducted into Canada's Sports Hall of Fame and in 2009 he was inducted into the International Boxing Hall of Fame.