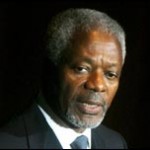 July 21, 1967 Albert John Lutuli, South African teacher and politician, died.
Lutuli was born around 1898 in Bulawayo, South Rhodesia. After completing a teaching course, Lutuli began running a small primary school in the Natal uplands. In 1920, he received a government scholarship to attend a higher teacher's training course at Adams College and subsequently joined the staff. In 1928, he became secretary of the African Teacher's Association and in 1933 its president.
In 1936, Lutuli became chief of his tribe. In 1944, he joined the African National Congress and in 1951 he was elected president of the KwaZulu Province Provincial Division of the ANC. The government demanded that he withdraw his membership in the ANC or forfeit his office as tribal chief. Refusing to do either, Lutuli was dismissed from his chieftainship by the government. In 1952, Lutuli was elected president-general of the ANC. Responding immediately, the government imposed two two-year bans on his movement, confining him to a 15 mile radius of his home.
In 1956, he was arrested and charged with treason and after a year in custody another five-year ban was imposed on his movement. In 1960, Lutuli was awarded the Nobel Peace Prize for his role in the non-violent struggle against apartheid.