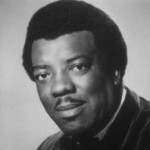 February 9, 1991 James Cleveland, gospel singer, arranger and composer, died.
Cleveland was born December 5, 1931 in Chicago, Illinois. He began singing as a boy and in 1950 he joined the Gospelaires. He subsequently worked with Albertina Walker and the Caravans and in 1954 made his first recording.
In 1962, Cleveland recorded his debut album, "Peace Be Still," and gained fame with his version of "The Love of God," which was backed by the Voices of Tabernacle from Detroit. Cleveland capitalized on his success by forming his own choir, The Southern California Community Choir, and co-founding The Gospel Music Workshop of America, which has over 30,000 members in 150 chapters.
Other albums by Cleveland include "I Stood on the Banks of Jordan" (1970) and "Jesus is the Best Thing That Ever Happened to Me" (1990). Over his career, Cleveland won four Grammy Awards.
---