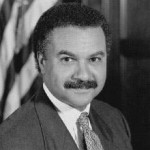 August 1, 1941 Ronald Harmon Brown, the first and only African American to serve as United States Secretary of Commerce, was born in Washington, D.C.
Brown earned his Bachelor of Arts degree from Middlebury College in 1962. He served in the United States Army from 1963 to 1967 rising to the rank of captain, and in 1970 earned his law degree from St. John's University School of Law.
From 1967 to 1979, Brown worked for the National Urban League, rising to the position of deputy executive director for Programs and Governmental Affairs. Brown was elected chairman of the Democratic National Committee in 1989 and played an integral role in the election of President William Clinton. President Clinton then appointed Brown Secretary of Commerce in 1993. Brown died along with 34 others on April 3, 1996 in a plane crash in Croatia.
In honor of Brown, President Clinton established the Ron Brown Award for corporate leadership and responsibility. The United States Department of Commerce annually gives out the Ronald H. Brown Innovator Award and there is the Ronald H. Brown Center for Civil Rights and Economic Development at St. John's University School of Law. In 2001, Brown was posthumously presented the Presidential Citizens Award.