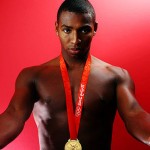 February 29, 1984 Cullen Jones, Olympic Gold medal winning freestyle sprint swimmer, was born in New York City, but grew up in Irvington, New Jersey.
Jones learned to swim after he nearly drowned when he was five years old.
He turned professional in 2006 and swam a leg in the world record breaking 4 by 100 meter freestyle relay, making him the second African American to hold or share a world record in swimming. In 2008, Jones became the third African American to make the United States Olympic swimming team and at the Olympic Games in Beijing he won a Gold medal in the 4 by 100 meter freestyle relay.
In 2009, Jones set the American record in the 50 meter freestyle race. Working with USA Swimming Foundation's Make a Splash Program, Jones is dedicated to helping minorities learn how to swim.